I do it all the time; run out the door without any breakfast. Halfway to where I am going, I realize I'm going to be hungry, and I start to look for a good place to grab a bite to eat. It is, after all, the "most important meal of the day." I am also a big brunch fan; I love a leisurely meal with friends on a weekend.
I thought I'd share with you some of the places in Fairfield County that serve the best breakfasts and brunches.
CAFFE SOCIAL
Located at 73 North Main St. in Norwalk, this is a great spot if you are looking for an all-day breakfast menu. Located in the SoNo section of Norwalk, it's sleek and chic, while retaining a cozy atmosphere.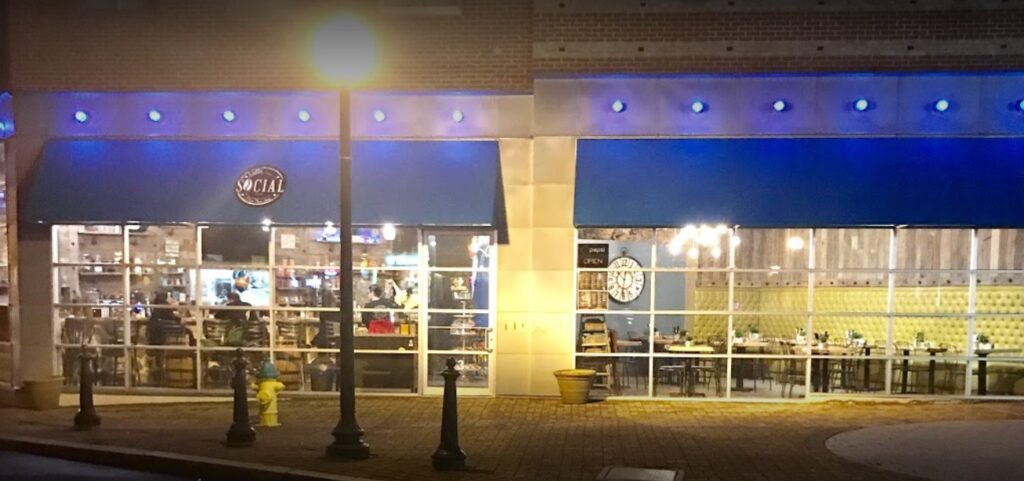 Caffe Social is known for its coffee (fresh) and incredible beverage selection, as well as breakfast favorites like Eggs Benedict, omelets, hash browns, and pancakes. Some of their specialties include "Elpida's" which is a dish of sausage, eggs, and toasted croissant with cheese, or you can try their smoked salmon, egg whites, lemon avocado, and red onion on a toasted "everything bagel."
If you are looking for a healthier alternative, try their "Smart Choice" option with egg whites, tomatoes, spinach, mushroom, and onions served on a spinach herb wrap with an avocado spread.
And for something completely original, their Stuffed Kale Omelette is an "egg white omelette with sausage and onions, stuffed with sautéed garlic kale, with feta cheese served with sweet potato home fries."
They're open every day from 9 – 4. See them online out at https://caffesocial.com/
S&S DUGOUT
If you want to enjoy a classic American Diner breakfast, then S&S Dugout located at 3449 Post Road in Southport, is your best option. Established in the 1950s, this neighborhood favorite has retained its authentic taste and menu.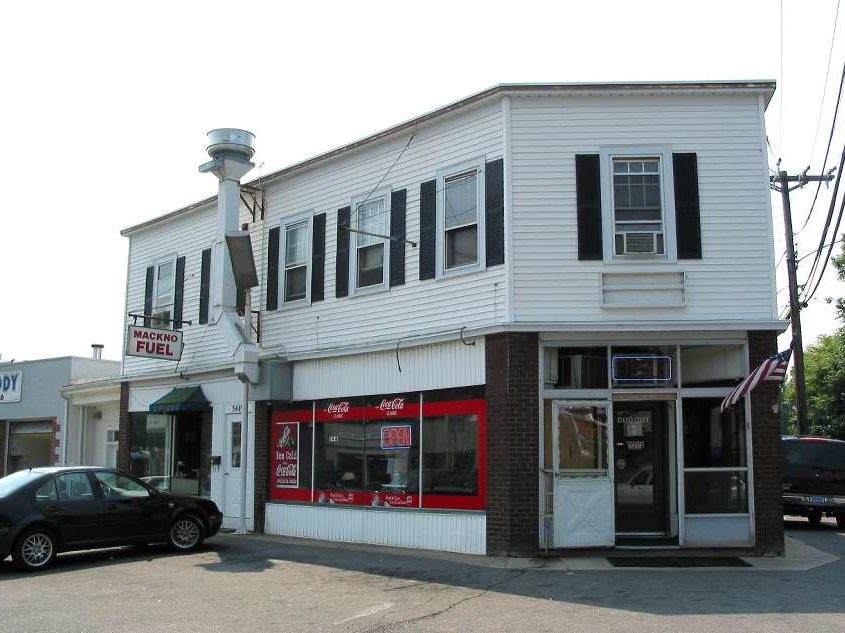 All your favorites are here, served by some of the friendliest staff ever, without pretense or fanfare. It's open from 7 am to 5 pm every day except Sunday they are open 7-3. Convenient and reasonably priced, you'll be pleased with the portion sizes and the comfort food factor!
You can see their menu here: https://ssdugout.com/menu/
CHELSEA
Best Brunch!
Sunday Brunch should be special, and do I have a recommendation for you! Recently awarded the Best Restaurant in Fairfield by Fairfield Magazine's Reader's Poll, The Chelsea is a brilliant little gem.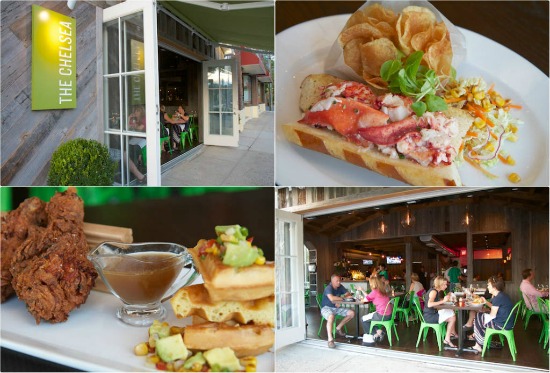 If you are craving modern as well as vintage dishes, then Chelsea is your go-to. Located on Unquowa Road in Fairfield, this "Gastro Pub" serves Sunday Brunch from 11:30 AM to 3 PM. While there, try the "Forager's Frittata:  "fluffy eggs with wild 'shrooms & goat cheese topped with an arugula-parmesan salad & an English muffin."  Or maybe you want to order "Mom's Recipe" which is a Bloody Mary made with infused vodka (the infusion made in-house with bacon, cilantro, cucumber, or jalapeno) to go with your steak and eggs, and tempura-fried waffles. 
You can bring the kids without trepidation: their "Littles" menu features mac n' cheese, and pigs in blankets served with fries. The Chelsea is now 8 years old and has won over many critics and diners. In fact, the New York Times's Patricia Brooks is one of their fans and has lamented the fact that it is not nearer to her home.
Chelsea is open weekdays from noon until 10pm (closed Monday), Saturdays 11am -10pm and Sunday 11am -9pm. Their menu is here http://thechelseaff.com/food-drink
GRUEL BRITANNIA
Want the full English Breakfast menu? Gruel Britannia located at 2217 Post Road in Fairfield is the place. Both indoor and outdoor seating options are offered in a friendly, casual atmosphere.
They roast and grind their own coffee beans. Heaven on earth for the groggy!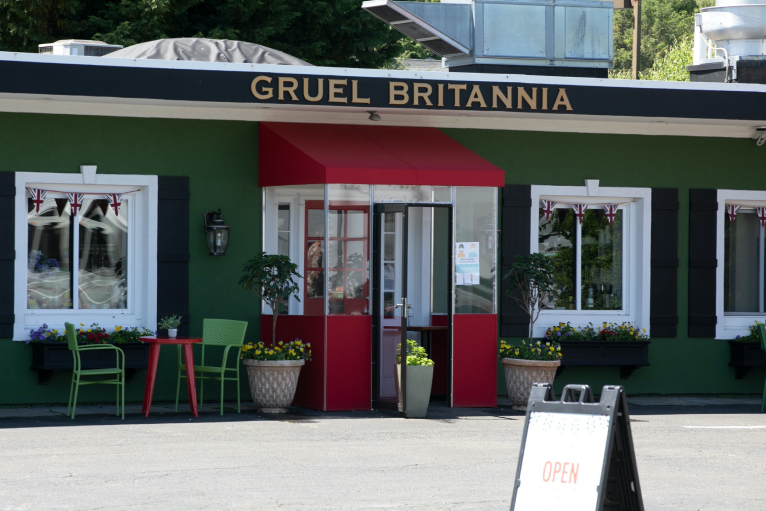 The breakfast menu includes typical British fare like a Bacon Butty, or, for the truly ravenous, the Full English Breakfast which comes with 2 eggs, bangers, back bacon, sauteed mushrooms, baked beans, roasted tomatoes, and toast. Looking for something light and healthy? Then try their Egg White and Veggie Frittatas that come with a side salad, tomato-basil salsa, and toast. They even offer a Homemade Granola Bowl and Gruel that come with homemade apple butter. If you are here on weekends, don't forget to order their Cheddar-chive scones!
Visit them online at http://www.gruelbritannia.com/fairfield for hours and the full menu.
HARBORVIEW MARKET
The owners are not sure, but they think the Market originally supplied the local Swedish community during the 19th century. It morphed into a butcher's shop and grocery market, doing increasingly poorly until the 1990s when the current owners, husband-and-wife team Rick and Michele Torres, took it on as a challenge and a dream.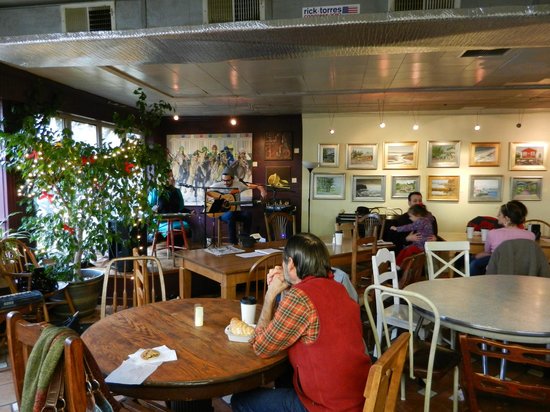 Now, Harborview Market is a neighborhood favorite, billing itself as "The Original Social Network," known for its home-cooked breakfasts and lunches, and bakery items. Everything is made in-house, from cookies to soups.
The décor is simple and unaffected, with long wooden tables and wood floors. The large, happy open space is generally chock full of diners who come for coffee or a meal (they also serve lunch).
The all-day breakfast menu includes croissants, pancakes, and Belgian waffles. Their omelette platters are also another popular choice. Croissants filled with Nutella are a big hit. Don't forget the freshly squeezed orange juice!
They open at 6 am; so, you can grab your coffee and breakfast here before heading for work.
See their menu here: https://www.harborviewmarket.com/menu
SUGAR & OLIVES
Looking for a good mix of vegan-friendly and gluten-free options?  Try Sugar & Olives.  This restaurant, located at 21 Lois Street in Norwalk, is a popular draw. Their specialty lies in creating dishes with seasonal favorites like their salad made with butterhead lettuce from fort hill farm, "dressed with lemon ginger vinaigrette and finished with parsley and dill," available in Summertime, or honey nut squash risotto, available during Autumn.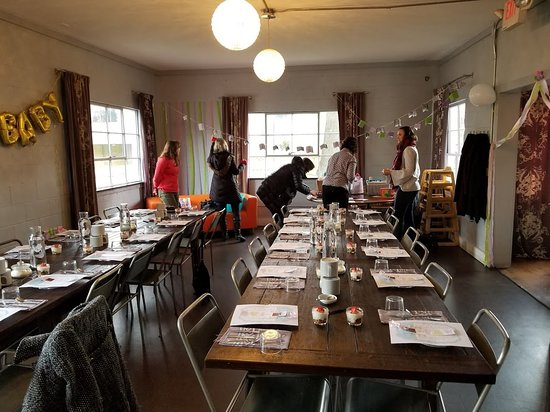 Then there is the vegan dish called "Hippie Chickpea Curry Bowl, " available year-round. This dish is a full meal, and perfect as a brunch option. It comes with jasmine rice and a Thai-style curry of sweet potatoes, served with veggies and cilantro.
If you prefer more traditional fare, there is Texas French Toast that comes with whipped cream and dulce de leche.
Check them out here: https://www.sugarandolives.com